Mike Holober & Balancing Act
Over the past decade Mike Holober has established an international reputation as a jazz orchestra composer, arranger and conductor.  With the formation of his octet Mike Holober & Balancing Act, he has re-directed his energy to a small group format that includes voice and lyrics.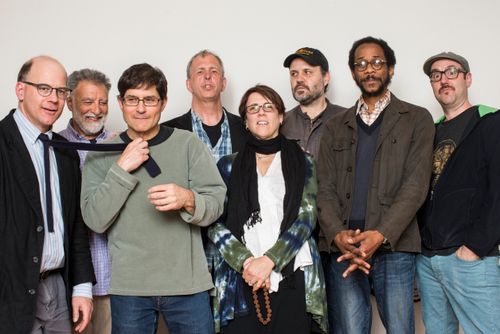 Balancing Act 
(Palmetto, 2015) 
Mike Holober (piano/composer), Kate McGarry (voice); Marvin Stamm (trumpet); Dick Oatts (alto and soprano saxophones, flute);  Jason Rigby (tenor saxophone and bass clarinet); Mark Patterson (trombone); John Hebert (bass); Brian Blade (drums)
The Musicians 
Balancing Act is comprised of vocalist Kate McGarry, saxophonists Jason Rigby and Dick Oatts, trumpeter Marvin Stamm, trombonist Mark Patterson, bassist John Hébert and drummer Brian Blade—all long-time associates of Holober's who have worked with him on other projects over the years. 
Premiere Recording
Balancing Act's premiere recording was released in 2015 (Palmetto Records) to widespread critical acclaim.  Downbeat Magazine's Carlo Wolf described it as an "emotionally persuasive album," and it was voted "Best Release of 2015" by several jazz critics.
Balancing Act is an exploration of contrasts brought into balance.  The album consists of old and new music, originals and covers -- some with lyrics, and some without.  More importantly, the project enabled Holober to take a break from an extended period of big band writing to explore a more intimately scaled musical concept.
Don't Let Go – CMA New Jazz Works Commission  
Balancing Act's most recent project is Don't Let Go, a Chamber Music America New Jazz Works commission that was premiered in June 2018 at the Leonard Nimoy Thalia at Peter Norton Symphony Space in New York City, and the Union Art Center in Sparkill New York.  For the premiere performances vocalist Jo Lawry (best known for her work with Sting) and drummer Gerald Cleaver replaced Kate McGarry and Brian Blade who were not available for the date.  
Like Balancing Act,  Don't Let Go includes lyrics; the concert-length project is structured as a song-cycle in the tradition of Robert Schumann, Samuel Barber, and Ralph Vaughn-Williams, and explores the nuances and complexities of the concept of "hope" in the context of current social, political, and environmental realities.